At Ivan's Carpentry & Handyman, we pride ourselves on our exceptional carpentry skills. We have over 40 years of experience completing custom cabinetry projects for customers throughout Minnesota and North Dakota. Our skilled team shows pride of workmanship in every detail of our customized cabinets with beautifully crafted detailing, smooth operation for doors, and flawless finishes to suit any home style.
Custom Cabinets & Cupboards
We know that every home in Minnesota and North Dakota has it's own unique characteristics. That's why we provide completely customized cabinets and cupboards designed especially for your home. While we see huge demand for kitchens, we have also provided cabinets for a long list of needs from bathroom vanities to home bars, and man caves to guest houses. If you have a project, speak to our team and we'll offer advice, ideas and a fair quote for the work required. If we find you don't have the budget for custom work, no worries. We'll offer comparable ready-made options, so you still get the look you want.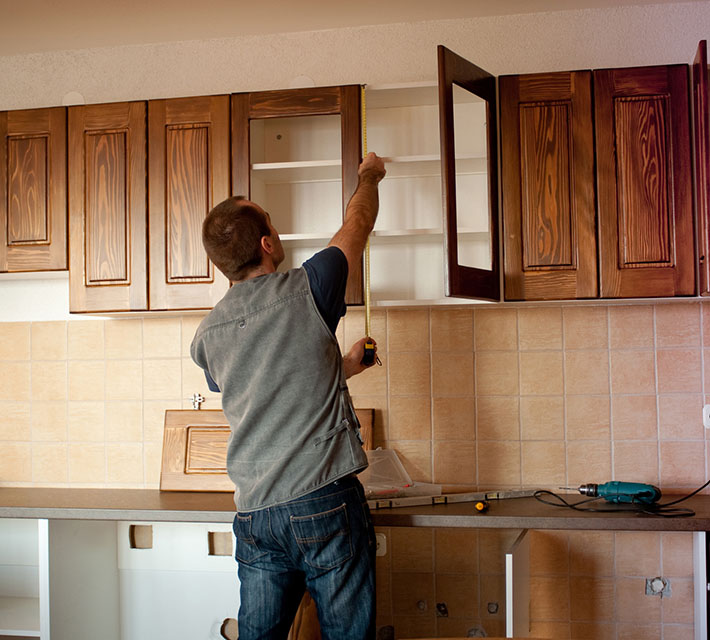 Why Invest in Custom Cabinets for my Kitchen Remodel?
Custom cabinets are the practical way to make the most of any space. Most kitchens have floorplans that could use a little help. Our custom cabinetry improves the function of your kitchen while optimizing storage space. And let's not forget you have an endless choice of styles we can design to suit any taste.
Do you build my custom cabinets?
Yes, we design and build each cabinet based on your specifications. All work is handled by our carpenters.
Can I order my own cabinets and have you install them?
Yes, we can do this as well. We want to provide the most affordable option to our customers. If custom cabinets are too expensive, we will find comparable designs so you get the look you love at a price you can afford.
Do I need to order my own materials?
No, we do everything. We will provide samples of wood so you can choose the materials you desire. We then place the order and begin the work. We include the cost of both the work and materials in the price, so you always receive a complete, accurate quote. Payment for the wood is required at the time we place the order, and then installation fees are paid when the work is finished.
Do you remove my old cabinets?
We sure do. We make life easy by removing and disposing of your old cabinets.
I have a project in mind, but am not sure how to design it, can you help?
Yes, we are very experienced in finding solutions for our customers. We will visit your home and you can explain what you need. We will take some measurements and provide a plan and quote so you can understand what we have in mind and how much it will cost.
If you're ready to start your remodel project call us today. We'll come out to assess your project and provide a fair quote based on the work required.